Featured Event:

GALLERY CLOSED FOR 2010 SEASON
---
About Blue Gum Farm
- History
- Press Room
- Renting the Gallery
- Renting a Studio
- Visiting

Archives

Art Gum Studios

Blue Gum Gallery

Calendar / Events

Featured Artist

Guest Book

Art Venues in Sonoma County
---
Last updated: July 26, 2010
Contact
Blue Gum Farm & Gallery
P.O. Box 662
Graton, CA USA
Tel: +1 (707) 526-6887
Fax: +1 (707) 526-6889
© 2006-10

Hours by appointment only, unless during the hours posted for a specific event.
---
Copyright©BlueGumFarm.
All Rights Reserved.
Welcome to Blue Gum Farm & Gallery

Blue Gum Farm is located in the scenic wine country one hour north of San Francisco and California's renowned Silicon Valley. Situated on the original four acre homestead that once was the core of a 200 acre turn-of-the-century dairy farm, Blue Gum Farm's activities take place in a relaxed atmosphere conducive to the creative process.

Fine artists rent studio space in the Art Gum studios on site and market their work at popular Open Studios events in the cavernous hay barn, site of the Blue Gum Art Gallery.

Blue Gum Gallery is a unique "alternative space" for showcasing local artist's work. The 5,000 square foot, two story structure has been insulated and drywalled so that the barn remains cool even on the hottest summer days. With the Great Doors open to catch the afternoon tradewinds from the coast, the work is displayed in a comfortable, well-lit environment. Thus the charm of a rural, pastoral setting is maintained while the requirements of presenting art professionally are met.

The Calendar highlights current and upcoming events. The Archives highlight previous exhibitions.


Previous Events

Passages

Dates: Labor Day Weekend, September 5 - 7, 2009
Collector's Reception: Friday, September 4, 6:00-8:00pm
Exhibit Hours: 1:00-5:00pm, Sat & Sun; 1:00-4:00pm Mon
Passages continues the on-going annual collaborative exhibit that Northern California artists Warren Arnold, Jocelyn Audette, and Hanya Popova Parker hold each year at the Blue Gum Gallery.


In the 2009 exhibit, they take a radically new approach and explore the significant stages of life, or passages, that occur from conception to beyond death, providing their interpretations in stone, drawings, oil, and encaustic.

The exhibit begins with drawings by Jocelyn Audette that take the viewer from Alpha through young adulthood. The second set of drawings by Hanya Popova-Parker continue the theme from courtship through to Omega. Warren Arnold's sculpture supplements and supports the drawings and paintings throughout the exhibit. Once again, the artists employ the process of interpreting drawing into sculpture into painting, segueing from two-dimensional work to three-dimensional to two-dimensional again, or 2-3-2.

While their diverse experiences and personalities influence their approaches to the media and the theme, it is the collaborative aspects that underlie the exhibit and give it a unique dynamic energy.
Art Venues in Sonoma County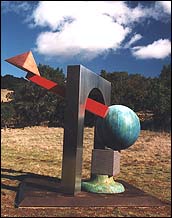 Paradise Ridge Winery not only makes super wine, but they have a fabulous Sculpture Grove that showcases the work of regional sculptors.

Northern California -- particularly Sonoma County -- appeals to a wide range of talented fine artists who enjoy the ambiance of a rural setting for creating art, yet also desire easy access to the cultural offerings of a nearby city.

Numerous world-renowned artists, from Mark DeSuvero to William Wiley, have made Sonoma County their home. In addition, memorable site-specific work, such as Christo & Jeanne Claude's 1970's installation of the Running Fence, take place in Sonoma County.

Today, there are a number of outstanding art galleries that feature work from the contemporary to the cutting edge. Their exhibits and locations can be found in the site hosted by the Arts Council of Sonoma County, which helped develop Sculpture Sonoma 2005 and Emerging Artists 2006, as well as the Sonoma County Gallery Group.